Maryland Judiciary Case Search provides a public window in the court system in Maryland. Case types, the names of parties, judgments and charges are all public information, displayed on case search. Through this window, we can see what the largest institutional users of the court system are up to. Here's what six of the largest filers have been up to.
The chart below shows a count of filings by these six filers:
Portfolio Recovery, Midland Funding, Cavalry SPV, Peninsula Regional Medical Center, Discover Bank, Mariner Finance. The chart shows a daily moving average over 60 days (in order to smooth out the volatile daily filing rate).
Midland Funding: a subsidiary of Encore Capital, the largest debt-buyer in the world.
Portfolio Recovery: the second-largest debt-buyer in the United States.
Cavalry SPV: A smaller debt buyer.
Discover Bank: A national bank and credit card lender
Mariner Finance: A Maryland-based finance company
Peninsula Regional Medical Center: A non-profit hospital system serving the Delmarva Peninsula.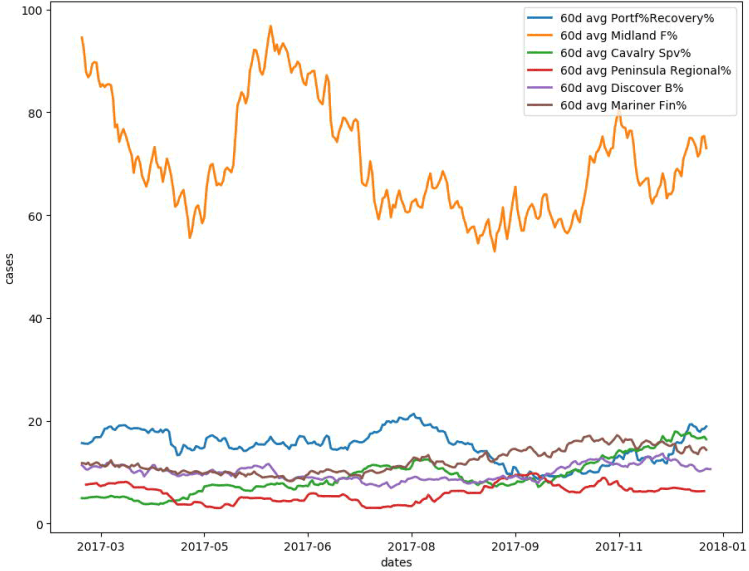 As you can see, Midland Funding's filings dwarf all of the other large filers. With more than 26,000 filings in 2017, it's no surprise that Midland Funding is way out ahead. But the two other debt buyers are as, or more, prolific in filing suits than a national bank, a state-wide finance company and a large hospital system.
Where The Stats Come From
Maryland Volunteer Lawyers Service (MVLS)'s CLUE project collects data from Maryland Judiciary Case Search and stores in a database from which statistical information can be drawn. These statistics are not 100% reliable and could be biased by certain factors – errors in case search and particularly be variations and mis-spellings in the names used by plaintiffs. This chart uses "%" as a wildcard for any string of characters – you can see the search term used for each plaintiff in the chart's key.